Welcome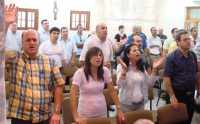 Baptists are the largest Evangelical group in Israel today. This vibrant and growing community enjoys fellowship together through the Association of Baptist Churches in Israel, which seeks to be salt and light and glorify God in the place He chose to dwell and become man.
There are 17 churches in the Association, the majority of which are among the Christian Arab population in the North of Israel. There are around 3,000 people in the community of Baptists which forms just 2% of the total Christian population in Israel. Christians in general are also a minority; the 140,000 Christians amount to only 2% of Israel's total population.
Baptists in Israel run the very successful Nazareth Baptist School, which hosts around 1000 students from Kindergarten to 12th Grade and also established the Nazareth Evangelical Theological Seminary which trains Christian leaders and pastors.